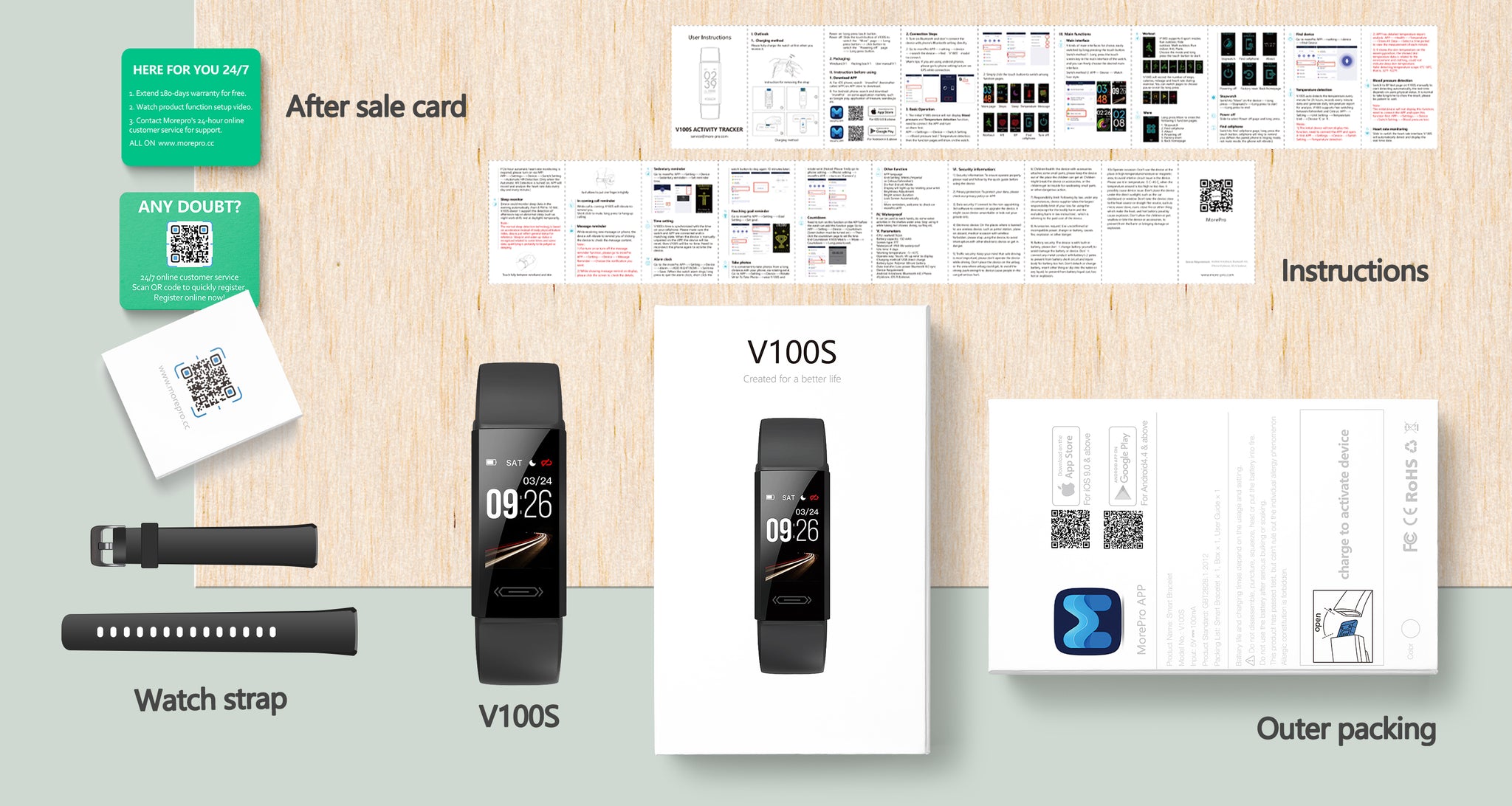 V100S User Instructions
Click here>>
Frequently Asked Question
Q:Why the V100S tracker can't pair to the phone?

A:The device can't pair to the phone's Bluetooth directly. You can download the MorePro app on Google Play or App Store. Turn on the Bluetooth and the GPS/location while connection, go to MorePro app-->setting-->search the device-->find "V100S"model to connect.
Q:How to change the time and date on the V100S tracker?

A:Once the device is successfully connected to the phone, the time will be synchronized, You can download the app on the App Store or Google Play for pairing.
Q:.How to charge the V100S tracker??

A:Please check this video:
Q:Why the tracker running out of battery so fast?

A:Generally speaking,the fitness tracker can be used for 5-7 days after fully charged, if you are using many functions at the same time, the watch will consume power fast, you can try to turn off some functions.
Q:Why the blood pressure and heart rate I detected on the tracker can't be saved?

A:Only the data that detected automatically can be saved. Please go to the setting of the App to turn on the "Automatic BP detect", "Automatic HR detect", then you can check the data.
Q:How to share the data, like sleeping, blood pressure, heart rate?
Q:What should I do if the step counting feature stopped working?

A:Please try to clear the device data on the app.
Q:How to change the metric into the imperial?

A:Please go to the MorePro app-->Setting-->Unit setting. Then you can change it.
Q:How to turn on the call/message notification?

A:Please go to the MorePro app-->Setting-->Device-->Message Remind, then you can turn on the call, message and app notifications. Please don't forget to allow the notification permission of the phone.
Q:How to reset the password for pairing the device on the app?

1)Switch the device to the Sleep page

2)Long press the touch button for 3-5 seconds till the device vibrates.

3)Try to enter "0000" on the app.

After you successfully pair the device with your phone on the app, you can change the app in the setting.

 
Q:Can't receive the verification code when registering the account?

1)Please make sure that the email address you provided is correct.

2)If you can't find the verification email sent by MorePro in the inbox, please check your folder. If the spam filter or the email rule moves the email, it may be in spam, in the trash, deleted the item or archive folder.

3)Please check your network status and try again. If the problem is still not resolved, please try the H band app. This app doesn't request the code.
How-To Videos
How to charge the V100S tracker?